• 70s style • Alyson Renee • bohemian boutique • bohemian clothing • bohemian fashion • bohemian style • boho chic • Boho fashion • boho kimono • boho style • hand dyed • made in NYC • nyc fashion • NYC Pop up shop • NYC style • tie-dye • USA made
Our hearts are overflowing with gratitude after our best show yet. 💗 CraftNewYork at Lincoln Center was filled with the most talented artists and lovely clientele that appreciate handmade. We had the pleasure of meeting some eccentric individuals with flamboyant style and great stories to tell. It is an absolute dream to connect with people, talk about our design process and hear about the occasions which they plan to wear our designs for. I couldn't believe how we sold out of all of the color options of so many styles!!! Thanks to artridercrafts for making it all happen. SHOP HERE
---
• 70s style • Alyson Renee • alysonrenee • bohemian • bohemian clothing • bohemian fashion • bohemian style • boho chic • Boho fashion • boho kimono • boho style • Bold Colors • fringe kimono • hand dyed • kimono • made in NYC • tie-dye • velvet kimono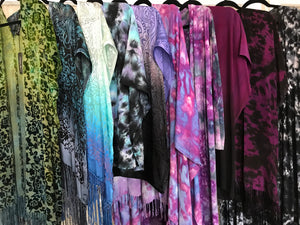 A very colorful batch of pretties finished up and went their separate ways. Some days I just have to pinch myself, because I'm so incredibly blessed to wake each day and do what I love. What an honor it is to create colorful designs for our customer friends all over the world, thank you for making that possible. 🎨🌈 Have a great day everyone! I hope that you are following your dreams too. www.alysonrenee.com
---
• Alyson Renee • anthro • anthro fashion • anthro home • Anthropologie • Anthropologie NYC • boho kimono • colorful fashion • hand dyed clothing • kimonos • made in NYC • nyc fashion show • spring 2018 • Spring fashion
Hello friends! We had such a lovely time last week at @anthro_nyc 's Spring fashion show hosted by friend @hilaryrushford 🌸 (Check out IG stories for the grand finale). Seeing the new cheerful Spring colors and patterns makes us so happy. This store's design and merchandise are spectacular, definitely a must to shop at if you're local. We kind of want to move in. 😂 Wishing everyone a great week. What's on the agenda? We are so busy designing for Spring and fulfilling store and customer orders. Thanks for keeping us so busy!.Shown here is our Hand dyed velvet kimono...
---
• 70s style • Alyson Renee • Alyson Renee news • bohemian • bohemian boutique • bohemian fashion • boho chic • boho dress • Boho fashion • boho kimono • boho style • Bold Colors • fringe kimono • hand dyed • handmade gift • made in NYC • NYC fashion designer • NYC Made • NYC style • tie-dye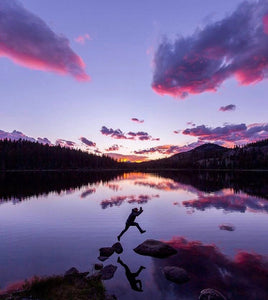 Creativity is always a leap of faith. You're faced with a blank page, blank easel, or an empty stage. Julia Cameron.All of my fellow creative entrepreneurs feel me! As I continue to create and release new Spring designs, I'm always filled with hope, knowing that they are created for someone special. The intentions I set while creating are those of love, peace and empowerment for the wearer to feel incredibly special in our one-of-a-kind designs. I speak love and joy into your life through our colorful collections and I'm so grateful for every like, comment and purchase. Thank you for...
---
• 70s style • Alyson Renee • bohemian • bohemian boutique • bohemian clothing • boho kimono • Chelsea Market NYC • fringe kimono • hand dyed • hand dyed clothing • kimono • New York fashion week • NYC Indie designer • NYC Pop up shop • NYC shopping • NYFW 2018
Happy Friday!We hope you've had an excellent week. We're happy to invite you to our pop-up shop during New York Fashion Week!We will be joining 25+ local artists at the iconic Chelsea Market located at 75 9th ave (in the event space across from Amy's bread). Hours are 10 am-7:30 pm on Saturday 2/10 & 10:30 am-7:30 pm on Sunday the 11th.  We look forward to seeing our favorite customers and friends to share our latest hand dyed styles. If you can't make it, we still want to extend 10% off regularly priced styles enter CODE: LOVERULES at checkout.  Also, our 'Ready to ship' category...